About TASC
Inspired by the abundance of homeless cats in need of help on the streets of Brooklyn, NY, The American Street Cat, Inc. was founded in 2011 as a non-profit charity in New York State.  In 2015, TASC gained non-profit status in the state of Texas when our founder relocated.
Having no paid officers or volunteers, TASC is a grass roots organization that believes in transparency about who we are and what we do.  Think of us as blue collar folks working for blue collar cats. All money raised via donations, adoption fees, and events goes directly toward the cats' expenses so that those living on the streets and in back yards may lead healthier, kitten-free lives.
TASC's mission is to minimize local stray cat populations via the humane, proven effective practice of Trap-Neuter-Return (TNR) and related efforts. Those efforts include placing into adoptive or foster homes the kittens and friendly strays found during TNR projects, heightening public awareness, and recruiting more volunteers in order to make a bigger difference faster. Monitoring the cats at street level means that fewer kittens are born outdoors, fewer turn up in shelters competing for forever homes, and the health of cats that are returned to their outdoor colonies after sterilization and vaccination is significantly improved.
Until local, state, and federal spay/neuter legislation can be agreed upon, passed, and enforced, our best defense is educating the public to gain its cooperation in achieving our mission. Too many intact house cats are turned out because of undesirable behavior, be it yowling females in heat, or spraying toms. Often, they are turned out not only because of their behavior, but also due to the lack of financial means for their owners to do anything about it. With the variety of low-cost options available, domestic dumping has to stop.
Take a look at the Spay/Neuter page for low-cost options in New York City and in the greater Houston area, and help spread the word to neighbors, co-workers, friends, and family who have yet to spay/neuter their pets.
Keep Up With Us
Adopt
All of TASC's adoption candidates are tested for FeLV and FIV, microchipped, and started on the deworming and FVRCP vaccine rounds. Adoptables of age are spayed or neutered and receive the rabies vaccine. Prospective adopters are required to fill out an adoption application, and a nominal adoption fee applies in order for us to continue helping street cats in need.
That you're even considering adopting is a step toward the global effort to minimize the homeless pet problem, and we ask that you please keep an open mind about adopting "special needs" cats and adult or senior cats that have been through domestic rehabilitation after a life on the streets.
The number and variety of adoptable cats and kittens at any given time will fluctuate. Please clink on the "ALL CATS Petfinder" link at the bottom of the page for the most comprehensive listing of our available cats.
You can read testimonials from the community and from previous adopters by clicking here to determine if meeting any of our TASCs at Hand would be worth your while. We hope that it is.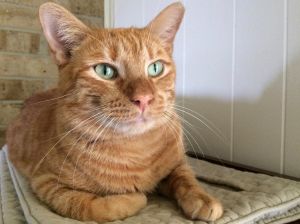 Adult, Male, Medium
Could Harris be more handsome?!? This sweetheart wandered into a trap set for an escaped barn cat, and the property owners didn't even know he was around. He turned out to be a social, wonderfully affectionate cat, and immediately bonded with Sol, another rescue. The two are inseparable and seek a home together.Harris actively seeks attention and is a ball of purring putty in your hands. He doesn't need an invitation to jump into your lap, and he'll find room even if Sol is already in it.Harris and Sol are both neutered, current on vaccines, and negative for FIV and FeLV. If you'd like to meet this bromantic couple, don't hesitate to send an inquiry.Please note that we have an adoption application process and that adoption fees apply. Without them, we wouldn't be able to help more cats in need.
Inquire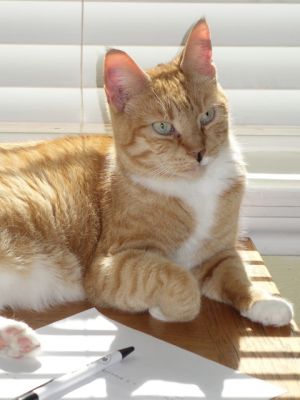 Adult, Female, Medium
If you're looking for an intelligent, loyal, and funny cat companion, Zinnia is your gal! She will purr instantly, snuggle up on the couch, and sleep at your side or on your pillow with one eye open in case you need protection. On cold nights, she loves to burrow, and if she gets bored, she'll easily entertain herself with small stuffed toys laced with catnip.Have dogs? No problem! Zinnia holds her own and generously shares her space with the large, cat-friendly canines in her foster home.Zinnia is listed as special needs for two reasons. First, she has a food allergy which was identified early and corrected with a limited ingredient diet (LID). As long as Zinnia stays strictly on the Royal Canin rabbit formula OR the Natural Balance Green Pea and Duck LID, she will not have any food allergy flare-ups.Second, this sweetheart is highly allergic to fleas/flea bites, which was not known until she moved from an urban apartment in NYC to a rural home in TX. Although she is an indoor kitty only, fleas in the new climate are an uphill battle, regardless of treating monthly all indoor animals and indoor/outdoor animals. A new home environment with fewer animals and no outdoor privileges is her best chance of avoiding the allergic response.Zinnia is one of the sweetest rescues we've had. She is spayed, negative for FIV/FeLV, microchipped, and current on vaccines. Please don't let her special needs deter you from giving her a chance of a forever home. She wants nothing more than a human of her own to dote upon.The American Street Cat is a non-profit, volunteer organization. Adoption fees apply so that we can continue to help other cats in need.
Inquire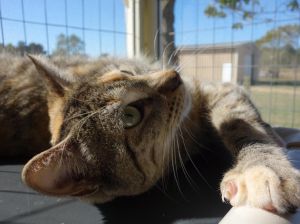 Young, Female, Medium
This petite lady loves her petting sessions! Haley will hop into a lap, sit up like a squirrel to receive an extended hand, or offer up her belly for some good rubs. In all of her actions, Haley is exceptionally subtle. A sweet, quiet little chirp is all you'll hear from her, most often upon sticking her soft landing in your lap for some cuddle time.Haley is celebrating her 3rd birthday this month (January 2018). Having grown up outdoors amongst a colony of cats, she is perfectly at ease in the presence of other cats in the foster home. She'd do quite well as a feline companion to a cat of any age, but she'd also truly appreciate being the only apple of her human's eye. Her personality shines so much brighter when there's no other competition around.Spayed, current on vaccines, negative for FIV/FeLV, and microchipped, Haley is ready for her forever home! Please don't hesitate to inquire after this gentle tortie.Please note that we are a 501c3 non-profit org. An adoption fee applies so that we can continue to help other cats in need.
Inquire
All Cats